---
OVERVIEW OF: North Korean leader, Kim Jong-un's wife reappears in public after 'vanishing' for more than a year (photos)
North Korean leader, Kim Jong-un's wife has made her first appearance in more than a year after she withdrew from the public eye throughout the coronavirus pandemic.
Ri Sol-ju was pictured with her husband on Tuesday February 16, at a concert to mark the birthday of Mr. Kim's late father and the country's former leader Kim Jong-il, known as the Day of the Shining Star in North Korea.
She made the appearance amid growing concern among international media over her wellbeing, with speculation that she may have been pregnant.
Mrs. Sol-ju had not been seen in public since January 2020, when she attended a Lunar New Year event with her husband.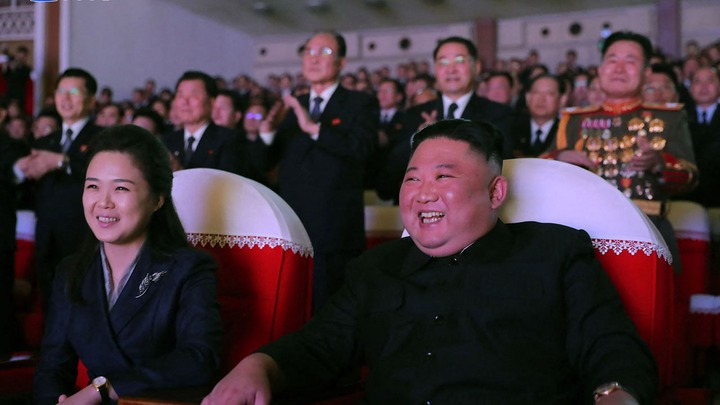 But on Tuesday, the couple were pictured smiling and laughing without observing social distancing or wearing face masks like everyone else at the event which took place at the Mansudae Art Theatre in Pyongyang.
According to the Korean Central News Agency, the two were welcomed with thunderous cheers and music at the concert hall, and their photographs from the event were splashed on the front pages of state-run newspapers.
Naijakit creates content to benefit users and artists alike. We do this by showing data in an easy-to-digest format.
We help artists track their progress, promote songs and reach their target audience.
We have permission from the artists to display most of our content, where we do not request permission, Naijakit use content under fair use for purposes such as criticism, comment, news reporting, promotion, and research.
Please do not hesitate to contact us, If Naijakit has infringed on your copyright or the copyright of someone you represent, and you want your media files and lyrics to be removed from Naijakit database.
Naijakit will respond to "any and all take-down requests" that comply with the requirements of the Digital Millennium Copyright Act (DMCA), and other applicable intellectual property laws.
Where we get songs to upload?
Naijakit have an upload form on the site, where users have to be registered
to upload song. Admin look at the song and decide if to approve it or not after some checks.
We also receive songs from artists representatives, artists, bloggers asking us to promote songs on our site.
Naijakit TV